Club History
Club Records
Click here for Club Records

Our waters are renowned for holding specimen fish and our membership list includes some of the great names of specimen angling.
---
It's official the Association was founded in 1910.


Bernard Lewis writes " I joined the committee in April 1967 and until this year (2009) I fully believed that the Association was founded in 1911. While trying to find an exact date using the Buckingham Advertiser's archives we discovered that an initial meeting to gauge the amount of interest in forming a fishing club was held on 28
th
September 1910. At the next meeting on 21
st
November 1910 a committee, with a President and a Treasurer (who happened to be the local Lloyds bank manager), was elected.
The original article from 1910 from the local press of the time, which makes first reference to the association was printed on 26
th
November 1910 this is reproduced below - with the kind permission of the current Buckingham Advertiser.
Special thanks to also due to Geoff Kirk who helped research the history.
We hope you find these articles as interesting as the current committee.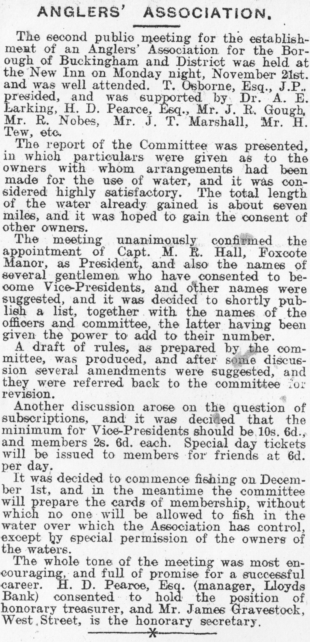 ---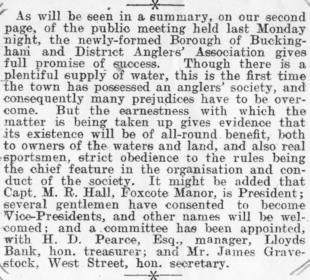 Below is another article from the Buckingham Advertiser and North Bucks Free Press printed on Saturday January 21, 1911 - this article refers to the first inaugural meeting on September 28th 2010 and the first AGM held on the 18th January 1911.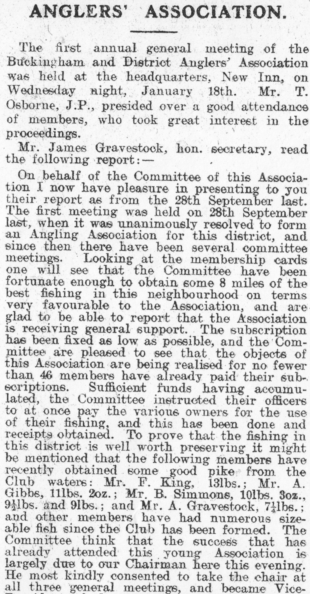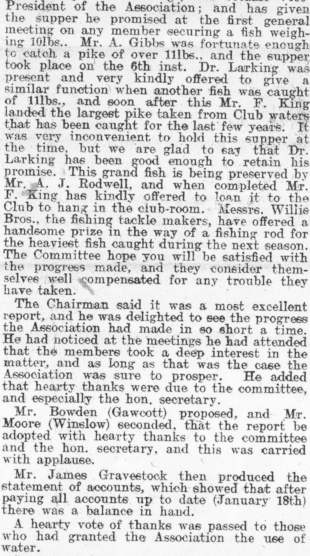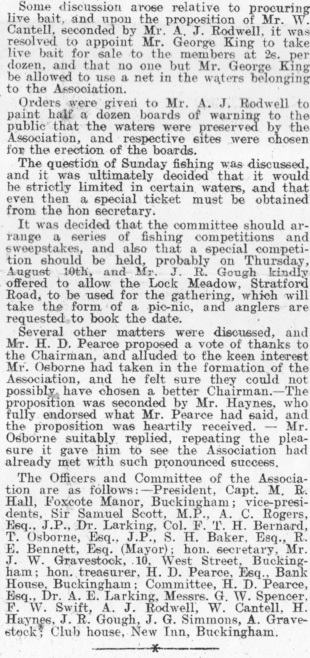 ---
---
Tony Miles - Friend of the Club
Legend Tony Miles, pictured below, who sadly died recently, is remembered below by Bernard Lewis.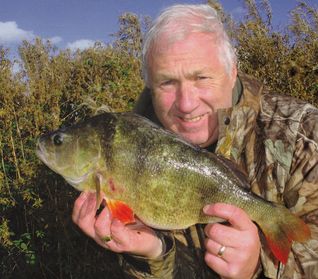 With great sadness I found out early in December 2016 that Tony Miles had died while night fishing on the River Ouse.
I don't remember exactly the date when I first met Tony, but I do recall he was fishing upstream of Padbury Mill on the Claydon Brook. I had to ask him how on earth he had found this productive fishery, when he lived so far away in Coventry.
He answered my question by saying that in his youth he was in the scouts and that the owner of Padbury Mill allowed scouts to pitch their tents for a couple of weeks, behind the mill and this is how he found this wonderful fishery.
He loved fishing this stretch of the Claydon Brook for chub and perch and he told me that he once caught a really large bream here weighing 11lb 14oz, which would have been a club record had he decided to have it weighed in.
I kept in touch with Tony for many years, usually on the phone. Then in 2007 Tony wrote a book entitled "50 years on the Ouse'". Out of the blue he sent me a specially signed copy of this book, and to my surprise he was very compliementary towards me - in the introduction he wrote "Another special mention must be given to Bernard Lewis, Never have I met a club offical with such dedication to his club; he works tirelessly on its behalf. Bernard and I have been friends for more years than I remember and he keeps me abreast of what is going on along the upper Ouse."
A wonderful friend and a big loss to angling.
Bernard Lewis 2017