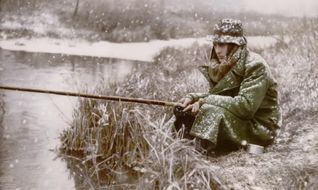 Dick Walker using a Glass Hardy Matchmaker and a 'Speedia' centre pin reel on the Great Ouse downstream of Thornton Bridge (c) Photograph by Fred J Taylor.
News
Club Day and BBQ Saturday 11 June
It's back - the annual BBQ - and this year we are holding both a Junior match and a Club match which is open to all members.
Club Match - draw is 12.30 - fishing 1.30 to 4.30
Junior Match - draw 1pm - fishing 2 to 4.
BBQ -from 5pm.
We hope to see you there - donations this year will go to funding a memorial bench in honour of our former chairman, Bernard Lewis, who did so much for the club, and who sadly passed away earlier this year.
---
Jamie Ballinger Memorial Trophy Result
The match held on 4 June at Woodfields was won by James Lewis with 9lb 1oz - pictured below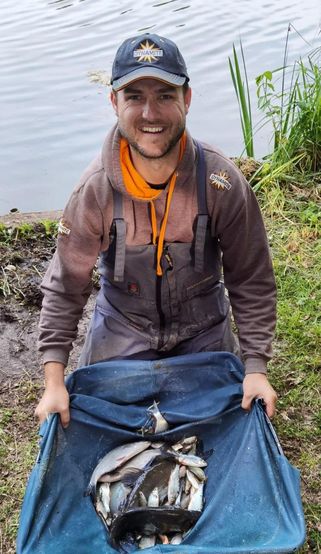 In total, eleven anglers fished the match, top three listed below:-
| | | | |
| --- | --- | --- | --- |
| Pos | Name | Weight | Peg |
| 1 | James Lewis | 9lb 1oz | 9 |
| 2 | Jack Swallow | 8lb 8oz | 11 |
| 3 | Charlie Green | 8lb 0oz | 37 |
---
Cranley Barn Camping - New from 2022
For those anglers from further afield who want to fish the Great River Ouse, a short walk away from Dick Walkers famous stretch downstream of Thornton Bridge, there is now a new campsite
Cranley Barn Camping
open for 2022.
click here
for their camping page
and
click here
for their fishing page.
---
2022-23 Permits Now on Sale

If you prefer to join or re-new your membership from a shop then all the following outlets have permits available to buy:-
Tingewick Post Office
Gone Fishin - Wolverton
Jakeman Sports - Aylesbury
Tackle Tavern - Bicester
George Browns - Buckingham
---
Working Parties - Thursday Evenings from 5pm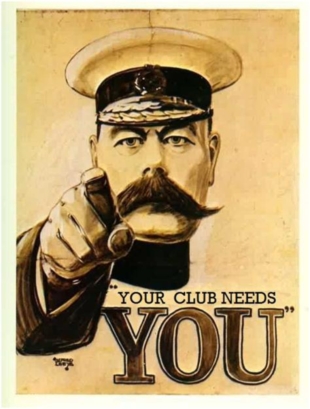 Want to put something back into the club - well here is your opportunity.
We are looking for volunteers to come along and join Barry on the bank at Woodfields on Thurday evenings from 5pm to dusk to help keep the weed down. Though not essential, some gardening / general purpose safety gloves might prove useful.
We look forward to seeing there.
---
Membership Tariff - to 31 May 2023
For those wishing to join the club for the for new 2022-23 season starting 1st June will now get a complementary 2021-22 permit to allow them to fish Woodfields from the day they join.
| | |
| --- | --- |
| Adult Membership | £45 |
| Concessions | £35 |
| Juniors | £10 |
Concessions include Senior Citizen(65 years+), Disabled and Intermediate (17-18 years inclusive).
This offer is only available as follows:-
1) by Paypal. Simply send an email with your name, address and the level of membership required to
membership@bdaafishing.org.uk
and we will send you an email invoice with a link to pay. We will then post your permit and a venue map.
Please do not send payment without first obtaining an invoice via email.
2) by post to the
Membership Secretary,
10 Moreton Drive,
Buckingham. MK18 1JQ
or
3) by contacting the treasurer at
info@bdaafishing.org.uk
or calling 07767 663928 - we can then arrange a mutually convenient time and place for you to purchase your permit.
---
Stalwart of the Club Passes Away
It is with great sadness that we need to write that former chairman and stalwart of the club, Bernard Lewis sadly passed away earlier this week on Tuesday 8th March.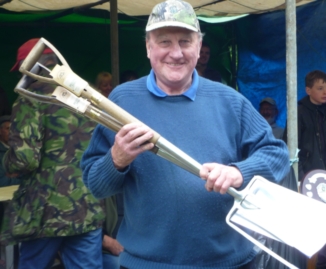 Bernard joined the BDAA in 1960. Seven years later in 1967 became a member of the committee. Then in 1987 he became chairman, a position he held for 25 years, until he stood down in 2012.
We were so fortunate as a club to have Bernard, at it's helm, as he was instrumental in the acquisition and development of Woodfields our very own picturesque lake which opened in 1995.
Tony Miles in his book '50 Years on the Ouse' summed up Bernard's contribution to the club - he wrote "
Another special mention must go to Bernard Lewis, Chairman of Buckingham & District Angling Association. Never have I met a club official with such dedication to his club: he works tirelessly on its behalf. Bernard and I have been friends for more years than I care to remember and he keeps me abreast of what is going on along the upper Ouse
".
The funeral is to be a family only service.
---
AGM - Thursday 31 March 2022
The AGM held in the Buckingham Athletic function room was well attended with 18 members attending.
The committee's proposed changes to the constitution were passed unanimously.
Click here
to view the updated constitution.
Other business included Barry Smith being elected as Chairman, Bidge Barnes as Vice-Chairman, Pete Williams re-elected as President and Simon Bumstead re-elected as Treasurer, New nomination to the committee, Mick Harvey was also elected. All to serve a term of three years.
Click Here for Draft Minutes from 2022 AGM
Next year's AGM will be held at Woodfields Lake on Thursday 25th May 2023 at 7.30pm.
Note AGM Minutes for prior years are now available on the Club Rules page -
click here
---
Fish Stocking Update
Good news - our order for new fish comprising of crucians, tench and bream was delivered on 10 Feb:-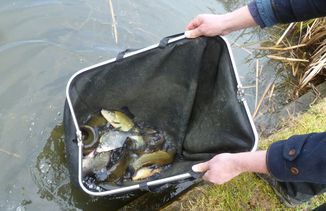 Crucians pictured below:-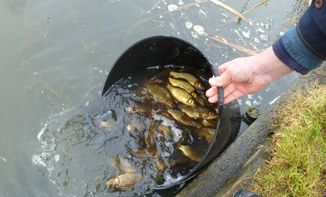 ---
Mugs Mug Winner 2021 - Richard Burdon
The most difficut conditions we have ever seen for this year's Mugs Mug - with what seemed like a hurricane coming through with tree being coming down and brollies battered. Anyway Richard Burdon, picture below, took the top prize.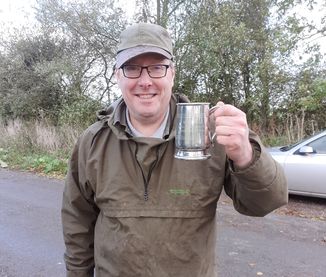 ---
Chairman's Video Message - Sep 2021
Please view Barry Smith's late summer update on things achieved and planned for Woodfields.
Click here
Barry gives details on the new stock ordered for the lake.
---
Great Ouse Recovery Update
Buckingham Town Council recently issued the following press release on the recovery of the Great Ouse through Buckingham
click here
.
This press release covers the recent riverfly training for the area's River Wardens and gives an update on the monitoring and health of the Great Ouse flowing through the Buckingham area, following the pollution event of 2018.
---
Privacy Notice for GDPR Compliance
In order to comply with the new General Data Protection Regulation (GDPR) coming into force on 25 May 2018 the club has undertaken a Data Protection Impact Assessment and has now published a Privacy Notice.
Click Here for the BDAA Privacy Notice
---
Committee requests your views
If you have any suggestions on how we could improve the fishing experience on our waters then please let us know your views. Additionally if you have any news items or pictures you wish to be posted to this site please email us at:-
info@bdaafishing.org.uk
Last Updated - 07 June 2022