Photo Gallery - 2020/2019
This web page is for association members pictures.
Please send pictures and details to the following email address:-
Email -
info@bdaafishing.org.uk
Club Day - 2020
This year's the club day held on Saturday 13 June 2020 was a low key event because of the current situation. However four juniors with their parents turned up and fished for two trophies, "Best Fish" and "Most Species Caught".
Charlie Craven won "Most Species Caught" with a total of four - gudgeon, roach, rudd and perch.
Young Elliemay, pictured below, won the "Best Fish" award with a small roach. Her father, Jamie, later emailed the club saying "Thank you very much for yesterday, Ellie loved it and said she can't wait to come back again."
---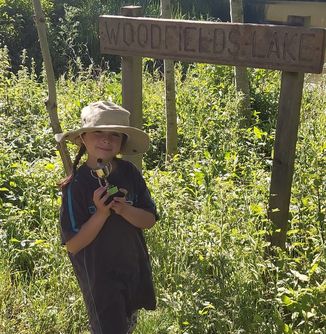 ---
Woodfields Carp Catches- 2020
Recent Woodfields Carp Catches
October's fishing is off to a good start with Rory Price catching a brace of carp both over 20lb. Below is a picture of the best in weighing in at 20lb 2oz. As Rory states "Lovely looking fish in great condition as they all have been".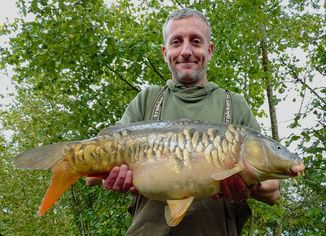 ---
Another fine fish caught by Richard Matthew who emailed in this photo on Tuesday 15 Sep 2020. This one, a common this time, weighed in at just under 15lb. Richard would like to thank Mick who rushed round from the otherside of the lake to take the photo.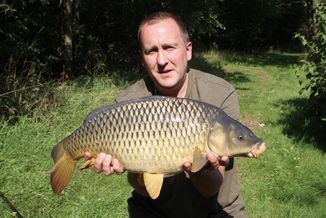 ---
Thanks to Richard Matthew who emailed in this photo - in his email he says
"I just thought I would send you this picture of my first fish from this cracking little lake. A lovely 16lb 10oz mirror. Caught on the 10th August after a trip down to the lake after work"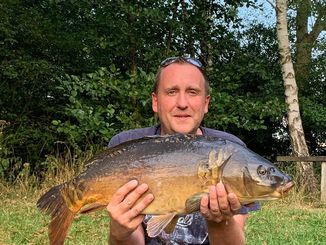 ---
A fine 17lb 5oz common caught by guest angler Ian Willis, from Macclesfeild, on 7 Aug 2020.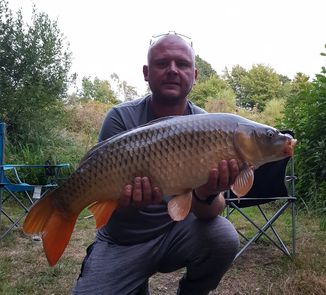 ---
New member Richard Lambourne, caught this fine 17lb 8oz common 5 Aug 2020.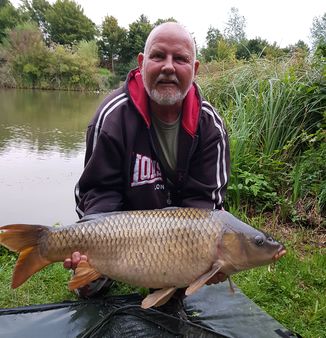 ---
More from Adam Gibbard with this common weighing in at 11lb 8oz caught Wednesday 29 July2020.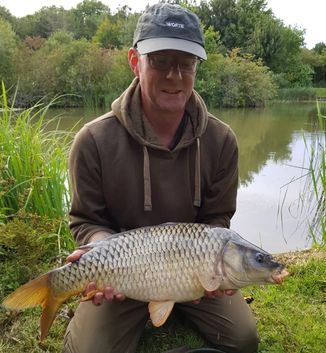 ---
And another from Adam Gibbard - a fine mirror carp weighing in at 11lb 12oz caught Saturday 27 June 2020.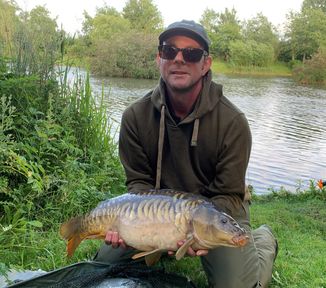 ---
This fine common caught on 15 June 2020 by young Alex Adams weighed in at around 20lb. Well done Alex.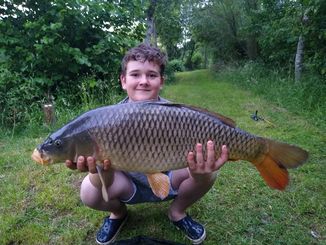 ---
This fine common caught on 9 June 2020 by Adam Gibbard weighed in at 10lb 10oz.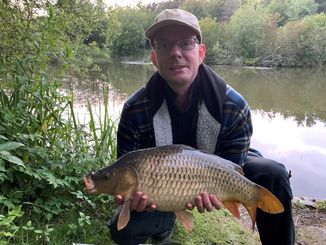 This mirror also caught on 9 June 2020 by Adam weighed in at 11lb.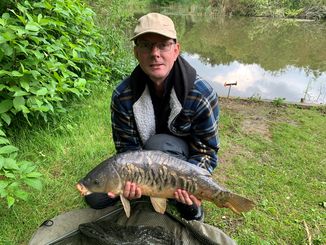 And another stunning common from Ryan, below, weighing in at 14lb. Some great pictures of fine carp from new members Ryan Jones and Jamie Carter.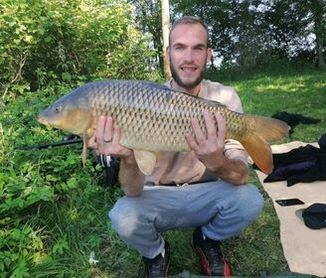 Below is Ryan with a 13lb 3oz common.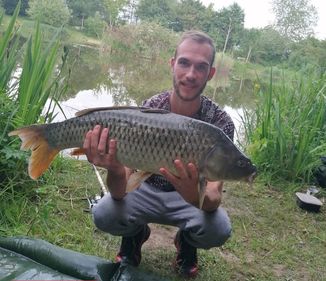 Jamie, below, with a 12lb 3oz common caught in early June 2020.