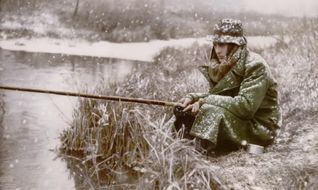 Dick Walker using a Glass Hardy Matchmaker and a 'Speedia' centre pin reel on the Great Ouse downstream of Thornton Bridge (c) Photograph by Fred J Taylor.
News
Stan Smith Memorial Trophy -

* DATE CHANGE *
This year's Stan Smith Memorial Trophy Open Match will now be fished for on Saturday 31 October 2020. The venue is still our Leckhampstead river venue.
The draw will take place at 9.00am - Fishing 10.30am to 3.30pm.
Advance Booking is required - contact Barry Smith.
Click here for details
---
Great News on Otter Fence Funding
We are pleased to advise that the Angling Trust has awarded us a grant towards funding the installation of an otter fence at Woodfields. The current date for installation will take place during January 2021. Over the next few weeks working parties will be preparing the way by clearing the fence line before we handover to the contractors. We apologise, in advance, for any inconvience caused to members fishing during this period. Any pegs we need to close for the clearance work will be advised via the noticeboard, so please refer to this prior to fishing.
---
New double peg - Completed
We are pleased to advise that we have completed the new double peg - joining pegs 4 and 5 at Woodfields. We wish to thank both Buckingham Town Council, who awarded us a grant to help fund this project, and Nigel Bidwell and his son Jordan to provided the labour.
This new fishing area will allow family fishing, fishing with a friend and also assist our coaches in the delivery of coaching events - which we hope to start up again next year.
---
Purchase of Permits at Outlets
At present the only outlets left with any permits to sell are Tingewick Post Office and Tackle Tavern. Of course permits can stil be purchased from our Membership Secretary. Call Simon Bumstead on 07767 663928 or send an email to
membership@bdaafishing.org.uk
Tingewick Post Office
-
*Permits available*
Tackle Tavern
Bicester -
*Permits available*
Gone Fishin
, Wolverton -
*Permits sold out*
Jakeman Sports
Aylesbury -
*Permits sold out*
Fishing Republic
MK - Not available
Angling Direct
MK - Not available
---
Fishing - Leckhampstead Bridge
A small working party recenty spent some time clearing a few of the swims on the stretch known as "The Straight". Click here to view Barry Smith's video on
Fishing Upstream of the bridge
---
Junior Matches Cancelled
Unfortunately, with the guidance from the Angling Trust and our Welfare Officer, the committee recently decided to cancel the two Junior matches we had planned for September(5th) and October (3rd).
We hope we will be in a better position next year to be able to run both coaching sessions and a full Junior Match Programme.
---
Friday Cup Winner 2020
Jack Robinson, pictured below, won the Friday Cup series by a margin of over 10lbs over second. Jack won the final match of the series with 5lb 6oz.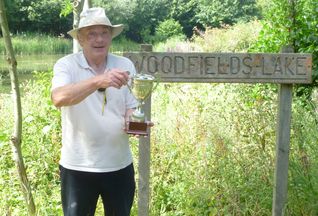 The conditions for the last match were quite tough with the temperatures edging towards 35c during the early afternoon. In total 13 anglers fished the series with the top three listed below. The winner is the highest total weight of the best three of the four match series.
| | | |
| --- | --- | --- |
| Pos | Name | Weight Best 3 |
| 1 | Jack Robinson | 15lb 15oz |
| 2 | Ron Hillier | 5lb 5oz |
| 3 | Bryan Bedward | 4lb 10oz |
---
Alan Bedward Series Winner 2020
Barry Smith won this series of 6 matches. Result details will be posted shortly.
---
Working Party _ July 2020
A special thank you to all those that came along and helped with clearing weed on Thursday night. The photo below shows the working party in action.
Pegs 31 to 39 were dragged though there was some floating weed left that may accumulate in some swims depending on the wind direction. This will be cleared during the next few days. We plan to drag swims 21 to 30 next week.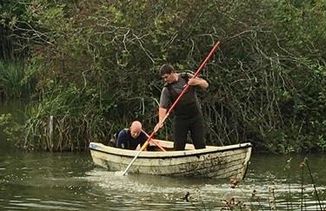 ---
Club Day - Update
This year's the club day held on Saturday 13 June 2020 was a low key event because of the current situation. However four juniors with their parents turned up and fished for two trophies, "Best Fish" and "Most Species Caught".
Charlie Craven won "Most Species Caught" with a total of four - gudgeon, roach, rudd and perch.
Young Elliemay, pictured below, won the "Best Fish" award with a small roach. Her father, Jamie, later emailed the club saying "Thank you very much for yesterday, Ellie loved it and said she can't wait to come back again."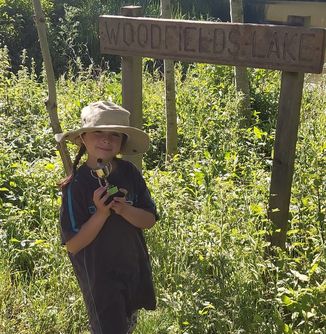 ---
Fishing Woodfields with Barry Smith - June 2020
Click here to view Barry's video
---
Fishing Leckhampstead with Barry - June 2020
Click here to view Barry's video
---
Match Programme Update
The match programme for adults goes ahead, these will be held in line with the Angling Trust's "Best Practice for safe resumption of angling competitions in England under COVID 19 restriction" guidelines.
For all matches held there will be changes to how we normally run them in that the draw will be done by the Match Secretary. There will be special arrangements in place to collect match fees and pools money, distribution of winnings, and how the weigh-in will be done.
Organisers and entrants will need to adhere to safe handling practises and maintain strict social distancing measures.
The updated 2020 BDAA Match Fixtures schedule is available to view or download.
Click Here
---
Jamie Ballinger Match Result
In total 6 fished the match raising £30 for the Jamie Ballinger charity. The top three listed below:-
| | | | |
| --- | --- | --- | --- |
| Pos | Name | Weight | Peg |
| 1 | Barry Smith | 3lb 11oz | 8 |
| 2 | James Cavendish | 1lb 12oz | 4 |
| 3 | Jack Swallow | 11oz | 12 |
---
Woodfields Open to members from 13 May 20
We have taken the decision to re-open Woodfields. However members are asked to respect the following when entering and while fishing at the venue:-
• Please bring and use hand sanitiser / gel as per government guidance, especially after opening and closing the gates.
• Please practice Social Distancing (i.e. Stay more than two metres from others)
This is to protect yourself and others from infection.
Given the pent up demand to go fishing, given the number of emails the club has received, the venue might be very busy in the next few days. Members are therfore reminded to only park in the car park area and are also reminded not park in the gateways or on the verges outside the venue.
We have also put a notice on the gate stating the above and additionally the requirement to "Please adhere to the latest Government advice, guidance, rules and any legislation regarding Coronavirus.
---
Match Results
For the 2020 match results
click here
---
Claydon Brook Venues Looking Good
The BDAA venues upstream and downstream of the Roman Bridge captured on video by Barry Smith. Well worth a try before the end of the season. This venue has been unaffected by the pollution incident of 2018.
Click here for Downstream of the bridge
Click here for Upstream of the bridge
---
Upper Ouse Pollution Update - 2018
The following venues were unaffected:-
  Roman Bridge
  The Coombs
  Lenborough.
The pollution event has affected the following club venues:-
The Twins - Maids Moreton Poor Charity Field
Dick Walkers - Downstream Thornton Bridge
Leckhampstead Bridge (Straight and Horses Field).
For more information on the pollution event affecting the Ouse we have set up a dedicated page to provide information on this incident
click here
.
---
Committee requests your views
If you have any suggestions on how we could improve the fishing experience on our waters then please let us know your views. Additionally if you have any news items or pictures you wish to be posted to this site please email us at:-
info@bdaafishing.org.uk
---
Access to the river behind Hyde Lane Lakes

A combination code is now required to use Staleys car park to gain access to our river venues behind Hyde Lane lakes. The code is available from Nick Mullis on 07762 822499. You will need to provide your BDAA permit number.
---
Newsletter
The BDAA Newsletter Tight Lines 2020 is now available to view in PDF Format.
Click Here for the 2020 Newsletter
---
Junior Hall of Fame 2019
The results and pictures from the 2019 Junior matches and coaching events can be found on the following page -
Click here
---
Junior Hall of Fame 2018
The results and pictures from the 2018 Junior matches and coaching events can be found on the following page -
Click here
---
Privacy Notice for GDPR Compliance
In order to comply with the new General Data Protection Regulation (GDPR) coming into force on 25 May 2018 the club has undertaken a Data Protection Impact Assessment and has now published a Privacy Notice.
Click Here for the BDAA Privacy Notice
---
Roach Fishing - Woodfields
Click here for a guide to Roach Fishing at Woodfields with Barry Smith
Last Updated - 12 October 2020