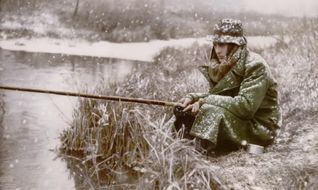 Dick Walker using a Glass Hardy Matchmaker and a 'Speedia' centre pin reel on the Great Ouse downstream of Thornton Bridge (c) Photograph by Fred J Taylor.
News
Fishing at Woodfields - Advisory
We have taken the decision to close Woodfields. Anglers should refrain from fishing.
We have put a notice on the gate stating. "Please adhere to the latest Government advice, guidance, rules and any legislation regarding Coronavirus. This is to protect yourself and others from infection.
Angling Trust Position - Statement as of 26 Mar 20.
"Current restrictions notified to the general public are as follows:
People will only be allowed to leave their home for the following very limited purposes: shopping for basic necessities, as infrequently as possible one form of exercise a day – for example a run, walk, or cycle – alone or with members of your household; any medical need, to provide care or to help a vulnerable person; and travelling to and from work, but only where this is absolutely necessary and cannot be done from home.
Because of the many different ways fisheries are set up and run we (the Angling Trust) are seeking guidance from Sport England and other Government bodies as to whether fishing is an allowed form of exercise. Until we have this clarification we ask that all anglers follow the restrictions set out by the Government at this time."
---
AGM - 19 March 2020 - Postponed
Due to unforeseen circumstances the AGM planned to be held in the function room at Buckingham Athletic on Thursday 19 March 2020 at 7.30pm has been postponed.
We shall reschedule the AGM for later in May or June.
All members will be advised of the new date in the Newsletter which will be sent out early in May. Additionally we shall advertise any new date on this website and place a advisory notice on the Noticeboard at Woodfields.
Apologies for any inconvenience caused.
---
Reduced Membership Tariff - to 31 May 2020
Anyone wishing to join the association for the remaining part of the season - running to 31 May 2020 for our lake Woodfields and 14 March 2020 for our rivers can do so at a reduced rate:
| | |
| --- | --- |
| Adult Membership | £20 |
| Concessions | £15 |
| Juniors | £5 |
This reduced membership is available as follows:-
1) by Paypal. Simply send an email with your name, address and the level of membership required to
membership@bdaafishing.org.uk
and we will send you an email invoice with a link to pay. We will then post your permit and a venue map.
Please do not send payment without first obtaining an invoice via email.
2) by post to the
Membership Secretary,
10 Moreton Drive,
Buckingham. MK18 1JQ
or
3) by contacting the treasurer at
info@bdaafishing.org.uk
or calling 07767 663928 - we can then arrange a mutually convenient time and place for you to purchase your permit.
---
Bernard Lewis Presentation
Bernard Lewis, who recently stepped down as Trustee from the the club, is pictured below being presented with an engraved tankard by Barry Smith.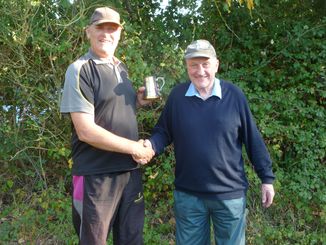 Bernard Lewis was originally given the engraved tankard at the 2017 AGM when he resigned from the committee and it has taken us this time to get him back to the lake for a photo. Bernard has been a long serving member for over 50 years. Serving as chairman for 25 years and 15 years as treasurer. Bernard was instrumental in the purchase and development of Woodfields. The club wishes him all the best for the future.
---
Match Results
For the 2019 match results
click here
---
Friday Cup Series Result
Ron Hillier won the Friday Cup Series and retains the trophy. Ron is pictured below being presented the trophy by Mark Fenning who was a close runner-up.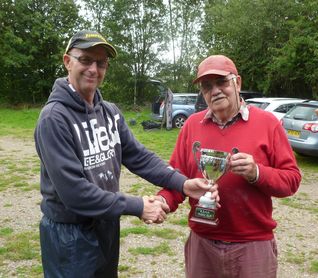 The top three standings for the series is given below:-
| | | |
| --- | --- | --- |
| Pos | Name | Weight |
| 1 | Ron Hillier | 12lb 13oz |
| 2 | Mark Fenning | 12lb 0oz |
| 3 | Bryan Bedward | 8lb 10oz |
---
OAP Trophy Winner
Ron Hillier won the OAP series and retains the trophy. Ron is pictured below being presented the OAP trophy by John Harris. Ron's total weight over the three matches was 9lb 14oz.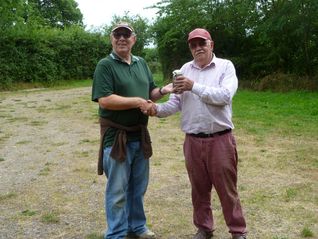 ---
Recent Catches at Woodfields - June 2019
Toni Richards, from MK, is pictured below with this fine 21lb common carp caught earlier this month.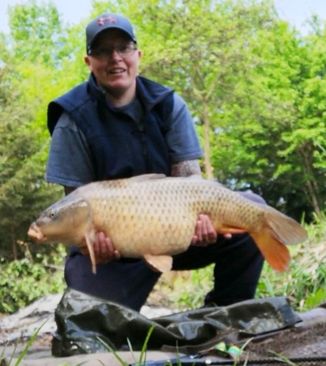 And on Sunday, 23rd June, caught this fine 12lb mirror carp (pictured below).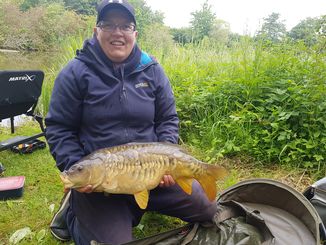 Michael Reid is pictured below with another fine double figure common carp caught earlier in June. .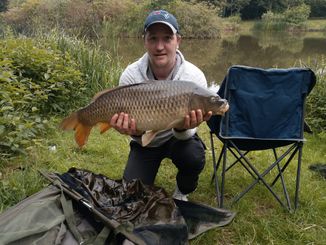 ---
Opening Season BBQ
Even the frequent heavy rain showers didn't stop the annual BBQ taking place on Saturday 15 June. It was good to see a good number of friends of the club enjoy the occassion following the BDAA Junior Open Match.
Barry Smith thanked all those that have helped the club over the last 12 months, given the difficulties the club faces, following the pollution that occurred on the river last year. A special thank you went to Nigel Bidwell, who with Walter Davies, had prepared the venue for the start of the new season.
---
Jamie Ballinger Match Result
The second match of the season, the Jamie Ballinger Memorial Trophy, held on Saturday 8 June at Woodfields, was won by John Shepp weighing in with 6lb 11oz. In total, six anglers fished the match, top three listed below:-
| | | | |
| --- | --- | --- | --- |
| Pos | Name | Weight | Peg |
| 1 | John Shepp | 6lb 11oz | 12 |
| 2 | Bryan Bedward | 3lb 11oz | 4 |
| 3 | Alan Robinson | 3lb 9oz 8dr | 10 |
---
Claydon Brook Venues Looking Good
The BDAA venues upstream and downstream of the Roman Bridge captured on video by Barry Smith. Well worth a try before the end of the season. This venue has been unaffected by the pollution incident of 2018.
Click here for Downstream of the bridge
Click here for Upstream of the bridge
---
Roach Fishing - Woodfields
Click here for a guide to Roach Fishing at Woodfields with Barry Smith
Last Updated - 26 March 2020