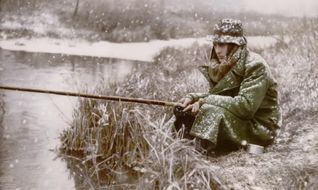 Dick Walker using a Glass Hardy Matchmaker and a 'Speedia' centre pin reel on the Great Ouse downstream of Thornton Bridge (c) Photograph by Fred J Taylor.
News
Advisory - Covid 19
Members are asked to respect the following when entering and while fishing at the venue:-
• Please bring and use hand sanitiser / gel as per government guidance, especially after opening and closing the gates.
• Please practice Social Distancing (i.e. Stay more than two metres from others)
This is to protect yourself and others from infection.
Members are also reminded to only park in the car park area and are also reminded not park in the gateways or on the verges outside the venue.
We have also put a notice on the gate re-stating the above and additionally the requirement to "Please adhere to the latest Government advice, guidance, rules and any legislation regarding Coronavirus.
---
Reduced Membership Tariff - to 31 May 2022
Anyone wishing to join the association for the remaining part of the season - running to 31 May 2022 for our lake Woodfields can do so at a reduced rate:
| | |
| --- | --- |
| Adult Membership | £25 |
| Concessions | £20 |
| Juniors | £5 |
This reduced membership is only available as follows:-
1) by Paypal. Simply send an email with your name, address and the level of membership required to
membership@bdaafishing.org.uk
and we will send you an email invoice with a link to pay. We will then post your permit and a venue map.
Please do not send payment without first obtaining an invoice via email.
2) by post to the
Membership Secretary,
10 Moreton Drive,
Buckingham. MK18 1JQ
or
3) by contacting the treasurer at
info@bdaafishing.org.uk
or calling 07767 663928 - we can then arrange a mutually convenient time and place for you to purchase your permit.
---
Mugs Mug Winner 2021 - Richard Burdon
The most difficut conditions we have ever seen for this year's Mugs Mug - with what seemed like a hurricane coming through with tree being coming down and brollies battered. Anyway Richard Burdon, picture below, took the top prize.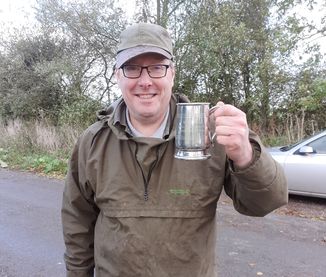 ---
Woodfields Advisory October 2021
This month we shall be re-introducing the ropes across the lake for the colder months. This is just one of the measures we are doing to protect the lake from cormorants before we introduce new fish stock later in the year. These plans include introducing Tench, Crucians, Barbel and Bream. We will also be deploying bird scarers like Wendy below:-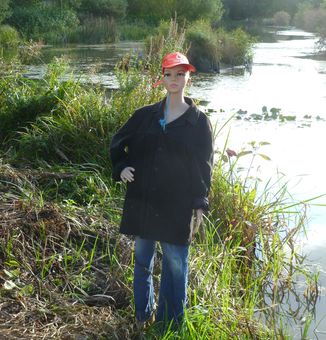 ---
Chairman's Video Message - Sep 2021
Please view Barry Smith's late summer update on things achieved and planned for Woodfields.
Click here
Barry gives details on the new stock ordered for the lake.
---
BTC - Celebrate Buckingham Day
As part of the club's focus to engage more with the community, promote the club and fishing we attended the Celebrate Buckingham Day, held 4 September 2021, held in Bourton Park.
Many youngsters enjoyed the Maggot Racing and a handful signed up for coaching sessions.
The event was organised by Buckingham Town Council to celebrate and promote the range of voluntary groups who are serving the town, bringing residents together and to encourage residents to get involved with local organisations.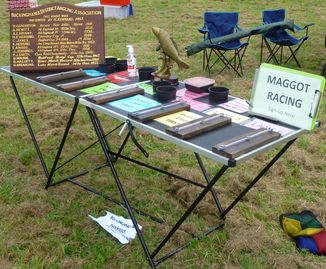 ---
Woodfields - Extended path at Inlet
Phase 1 of the Work to extend the path at the Inlet has been completed.
A special thank you goes to Nigel Bidwell and Walter Davies who worked solidly for two whole days to complete this work.
We also need to thank Steve Cory, Lee Senior, Leo Senior and Dick Hutchin who also put some hours in. The path is now usable but care should be taken as we have still to erect a safety fence as we don't want anyway falling in.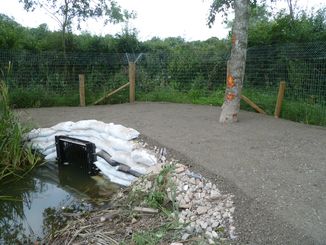 ---
Great Ouse Recovery Update
Buckingham Town Council recently issued the following press release on the recovery of the Great Ouse through Buckingham
click here
.
This press release covers the recent riverfly training for the area's River Wardens and gives an update on the monitoring and health of the Great Ouse flowing through the Buckingham area, following the pollution event of 2018.
---
Alan Bedward Series and OAP Cup Winner
Bryan Bedward wins the Alan Bedward Series by highest total weight over the 6 match series after tieing with Gavin Bedward on 48 points.
Bryan also won the OAP Series, with 10lb 2oz, and is pictured below holding both trophies alongside Jack Swallow who came second with 9lb 3oz.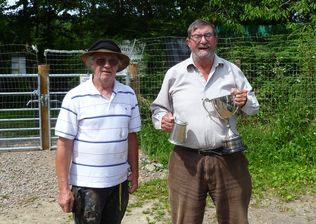 The top three standings for the Alan Bedward series is given below:-
| | | |
| --- | --- | --- |
| Pos | Name | Pts |
| 1 | Bryan Bedward (7lb 8oz) | 48 |
| 2 | Gavin Bedward (7lb 2oz) | 48 |
| 3 | Vincent Riley | 47 |
The top three standings for the OAP series is given below:-
| | | |
| --- | --- | --- |
| Pos | Name | Weight |
| 1 | Bryan Bedward | 10lb 2oz |
| 2 | Jack Swallow | 9lb 3oz |
| 3 | Jim Harris | 3lb 12oz |
---
TVP Cup Result 17 July 2021
The second Junior match of the season was held on Saturday 17 July 2021 at Woodfields with five entrants, who all caught, taking part.
Again it was a day for the girls with young Annabel Grupp winning the TVP Cup weighing in with 12oz of fish. In second place was William Grupp weighing in with 9oz.
---
Junior Match Result 26 June 2021
The first Junior match of the season was held on Saturday 26 June 2021 at Woodfields with five entrants, who all caught, taking part.
Though it was a day for the girls with young Mille Borton, pictured on the right, winning the BDAA Junior Open Shield weighing in with 1lb of fish and Annabel Grupp, pictured on the left, winning the Pete Callow trophy for most fish caught.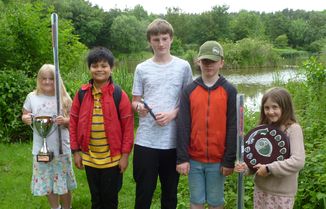 ---
AGM - 24 June 2021
The AGM was held on Thursday 24 June 2021 at Woodfields lake with twelve members attending.
The five committee members, who had served their three year term, were re-elected.
One new member Richard Hutchin was elected to join the committee.
The chairman and treasurer gave their reports which will be included in the minutes. There were no specific resolutions tabled.
A copy of the draft minutes is now available to view in PDF Format.
- click here
Note AGM Minutes for prior years are now available on the Club Rules page -
click here
---
BTC Presentation of Grant Award - 14th June 2021
Pictured below is Cllr. Margaret Gateley, Mayor of Buckingham, presenting Barry Smith with the grant cheque recently awarded to the club by Buckingham Town Council (BTC).
The grant will go towards improving access and fishing areas at our Woodfields lake in Preston Bissett. The club wish to thank BTC for it's on-going support to the club.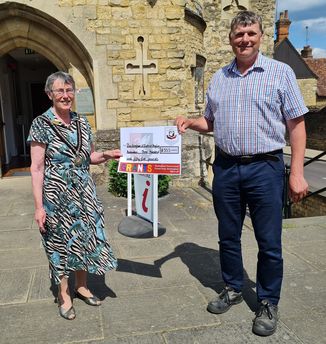 ---
Jamie Ballinger Match 2021 Result
In total 12 fished the match at Woodfields held on Saturday 5th June raising £60 for the British Heart Foundation. The top three listed below:-
| | | | |
| --- | --- | --- | --- |
| Pos | Name | Weight | Peg |
| 1 | James Lewis | 7lb 8oz | |
| 2 | Jack Swallow | 4lb 10oz | |
| 3 | Colin Chart | 3lb 4oz | |
---
The BDAA Newsletter Tight Lines 2021 is now available to view in PDF Format.
Click Here for the 2021 Newsletter Including Fixture List
---
Chairman Update
News message from BDAA Chairman Barry Smith.
Following the lake closure to enable us to install an otter fence Barry Smith, the BDAA Chairman, re-opened the lake on Saturday 20 Feb 2021.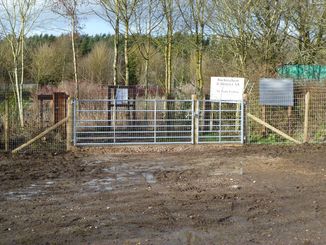 ---
Buckingham Angling Club Update
Click here for a message from Barry Smith.
---
Fishing Woodfields with Barry Smith - June 2020
Click here to view Barry's video
---
Fishing Leckhampstead with Barry - June 2020
Click here to view Barry's video
---
Claydon Brook Venues Looking Good
The BDAA venues upstream and downstream of the Roman Bridge captured on video by Barry Smith. Well worth a try before the end of the season. This venue has been unaffected by the pollution incident of 2018.
Click here for Downstream of the bridge
Click here for Upstream of the bridge
---
Barry's Fishing Journeys
Links to Barry's fishing adventure videos:-
click here
Previously posted on the home page.
---
Privacy Notice for GDPR Compliance
In order to comply with the new General Data Protection Regulation (GDPR) coming into force on 25 May 2018 the club has undertaken a Data Protection Impact Assessment and has now published a Privacy Notice.
Click Here for the BDAA Privacy Notice
---
Committee requests your views
If you have any suggestions on how we could improve the fishing experience on our waters then please let us know your views. Additionally if you have any news items or pictures you wish to be posted to this site please email us at:-
info@bdaafishing.org.uk
Last Updated - 08 January 2022