BDAA - Hall of Fame 2017
BDAA Season Opening Junior Match 10 June 2017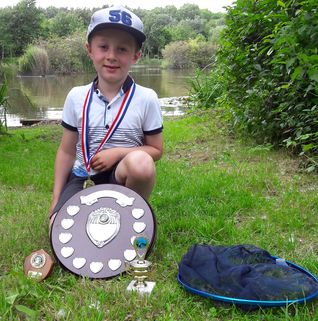 Young Riley Borton, pictured above, retained the Junior Shield trophy for a second year running at the club's season opening junior match on Saturday 10 June. Six young anglers fished the match at Woodfields and all caught some fish.
Top three weights below:
1st Riley Borton - with 3lb 8oz
2nd David Gore - with 2lb 15oz
3rd Thomas Archer - with 2lb 4oz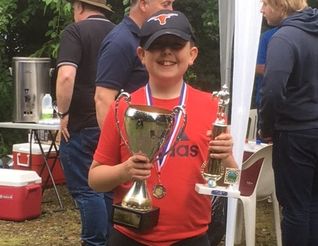 David Gore, pictured above won the Pete Callow trophy for catching the most fish in the match just beating Riley by 1 fish. David caught 52 fish in total.
Also at the event the Upper Ouse Angling Club presented three awards for the 2016 season.
David Gore was awarded the "
Most Improved Angler
" award.
Alex Adams was awarded the "
Dedication
" trophy and Thomas Archer picked up an award for "
High Acheivement
".
The match was followed by the annual BDAA BBQ which was well attended. Thank you to those that came along and especially those that helped organise the event.
---
F H Taylor Shield - Joint Winners 15 Jul 2017
The F H Taylor Shield match was an extremely close match with only 3oz separating the top three. With no clear winner the shield was shared between Alex Adams and David Gore. Pictured below left to right is Thomas Alexander, who in his first match came in third place, with joint winners Alex and David holding the shield.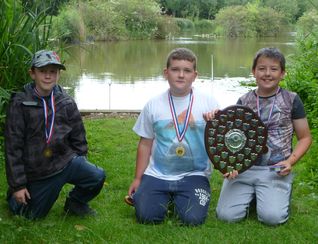 | | | | |
| --- | --- | --- | --- |
| Pos | Name | Peg | Weight |
| 1st | David Gore | 8 | 1lb 8oz |
| 1st | Alex Adams | 6 | 1lb 8oz |
| 3rd | Thomas Alexander | 12 | 1lb 5oz |
| 4th | Sofia Harper | 4 | 9oz |
| 5th | Charlie Craven | 10 | 6oz |
---
F Bowles Memorial Trophy - 22 Jul 2017
The F Bowles Memorial Trophy match was very well attended with nine juniors taking part.The match was narrowly won by Riley Borton. Top three results below:-
| | | | |
| --- | --- | --- | --- |
| Pos | Name | Peg | Weight |
| 1st | Riley Borton | 7 | 1lb 3oz 8dr |
| 2nd | Charlie Craven | 5 | 1lb 3oz |
| 3rd | Sofia Harper | 6 | 1lb 0oz 8dr |
---
Thames Valley Police (TVP) Trophy - 2 Sep 2017
The Thames Valley Police (TVP) trophy took place at Woodfields on 2 September. Seven young anglers took part with all participants catching some fish. The match was won by Alex Adams. In second place was young Riley Borton with Charlie Craven coming third. Top three results below:-
| | | | |
| --- | --- | --- | --- |
| Pos | Name | Peg | Weight |
| 1st | Alex Adams | 36 | 2lb 1oz |
| 2nd | Riley Borton | 37 | 0lb 14oz 8dr |
| 3rd | Charlie Craven | 31 | 0lb 13oz 8dr |