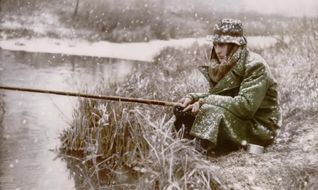 Dick Walker using a Glass Hardy Matchmaker and a 'Speedia' centre pin reel on the Great Ouse downstream of Thornton Bridge (c) Photograph by Fred J Taylor.
News
AGM - 22 March 2018
The AGM will be held in the function room at Buckingham Athletic on Thursday 22 March 2018 at 7.30pm.
One resolution have been submitted to change the constitution to remove the requirement that only two committee members can reside outside of Buckingham or the area of the former Buckingham Rural District Council.
Please
click here
for the agenda.
Also the Upper Ouse Angling Club AGM will be held at 8.30 - following the the BDAA AGM.
Nominations
Any member wishing to stand for election to the BDAA committee can be nominated by any two members.
The name of each member so nominated should be sent in writing, or by email, to the association at least 14 days before the AGM. Please note we have some vacancies on the committee so if you are interested in standing please contact us.
---
Advisory - Roman Bridge Venue
Unfortunately Western Green Farm is being sold and as yet we have still to acquire the fishing rights to the river in the first two fields downstream of Roman Bridge for 2017. Therefore can members refrain from fishing these until we can negotiate fishing rights with the new owners. However we still hold the fishing rights either side of these two fields.
---
Reduced Membership Tariff - to 31 May 2018
Anyone wishing to join the association for the remaining part of the season - running to 31 May 2018 for our lake Woodfields and 14 March 2018 for our rivers can do so at a reduced rate:
| | |
| --- | --- |
| Adult Membership | £21 |
| Concessions | £12.50 |
| Juniors | £5 |
This reduced membership is available as follows:-
1) by Paypal. Simply send an email with your name, address and the level of membership required to
membership@bdaafishing.org.uk
and we will send you an email invoice with a link to pay. We will then post your permit and a venue map.
Please do not send payment without first obtaining an invoice via email.
2) by post to the
Membership Secretary,
10 Moreton Drive,
Buckingham. MK18 1JQ
or
3) by contacting the treasurer at
info@bdaafishing.org.uk
or calling 07767 663928 - we can then arrange a mutually convenient time and place for you to purchase your permit.
---
Friday Cup Winner - 2017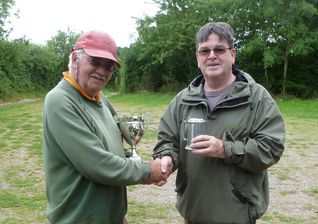 Ron Hiller retains the OAP trophy and also wins the inaugral competition for the Friday Cup. These trophies are competed for in a three match series. Ron (pictured above on the left) was presented the awards by Simon Bumstead, our treasurer.
Final Positions:-
| | | | |
| --- | --- | --- | --- |
| Pos | Name | | Weight |
| 1st | Ron Hillier | | 15lb 7oz |
| 2nd | Bryan Bedward | | 14lb 8oz |
| 3rd | Mick Grace | | 10lb 15oz |
| 4th | John Bellinger | | 9lb 7oz |
| 5th | Jack Robinson | | 2lb 9oz - fished one match |
---
Match Results
Adult and senior match results can be found on the following page -
Click here
---
New Members Successful on First Visit

Neil and Frank Fitzjohn, from St Albans, finally have a good final hour on their first visit to Woodfields. Neil stated "Conditions were still challenging (due to the high winds) and it was hard to even catch the smaller fish. I caught a few roach and skimmer bream in the morning and dad had nothing. However, the lake seemed to switch on a bit in the afternoon and dad caught his only fish of the day on worm which was a beautiful mirror carp of 9lb 4oz. And shortly after, I was awarded with a fat perch of 2lb 4oz also to ledgered worm. So we both had a nice day's fishing and look forward to going back soon".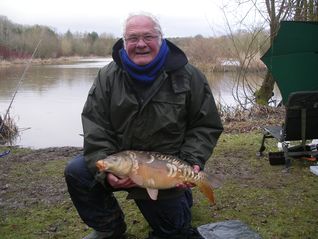 Frank, pictured above, landed a fine 9lb 4oz mirror carp.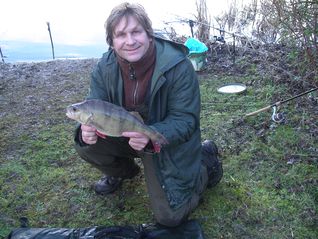 Neil, pictured above, landed a fine 2lb 4oz perch.
---
AGM - 30 March 2017
The AGM was held in the function room at Buckingham Athletic on Thursday 30 March 2017. In total 16 members including the committee, attended the meeting.
The key messages will be summerised in the Chairman's report section of the 2017 Newsletter which will be sent out with the membership renewal letters next month.
The highlight moment was a presentation of an engraved tankard by chairman Barry Smith to Bernard Lewis who has, after 50 Years service, decided to stand down from the committee. Though Bernard will continue as trustee.
Bernard will be greatly missed by the club. Bernard has been the backbone of the club for a long time and was instrumental in the acquisition and development of our lake Woodfields. This very act ensures the BDAA, founded in 1910, will have a long and lasting future given the challenges facing anglers and riparian owners.
Everone attending wished Bernard "All the Best" and I am sure we will see him at future social events.
---
Web site postings
If you wish to have any news items or pictures posted to this site then email us at :
info@bdaafishing.org.uk
---
Newsletter
The BDAA Newsletter Tight Lines 2017 is available to view in PDF Format.
Click Here for the 2017 Newsletter
---
Committee requests your views
If you have any suggestions on how we could improve the fishing experience on our waters then please let us know your views. You can email us at:-
info@bdaafishing.org.uk
---
Access to the river behind Hyde Lane Lakes

A key is now required to use Staleys car park to gain access to our river venues behind Hyde Lane lakes. The key will cost £15 available from Hyde Lane Lakes Syndicate group. The cost is refundable when the key is handed back. Contact Nick Mullis on 07762 822499 to arrange pick-up. His address is 14 Bourtonville, Buckingham MK18 1AZ. You will need to provide your BDAA permit number or show your permit in order to obtain a key.
---
Upper Ouse Angling Club
The Upper Ouse Angling Club (UOAC) was formed by members of the Brackley & District Angling Club and Buckingham & District Angling Association to deliver coaching in the Upper Ouse area.
There is now a separate page dedicated to the UOAC.
Click here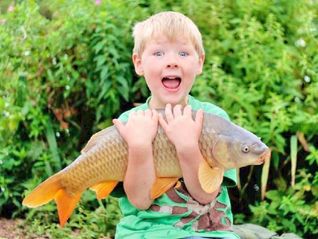 ---
Advisory on Permit Purchase
Unfortunately Costcutter, formerly Londis, in Nelson Street will no longer be selling our Permits or Day Tickets for 2017-18 season.
Permits and Day Tickets can still be purchased by Paypal, post or from one of the following three outlets:
Tingewick Post Office
Gone Fishing, Wolverton
Jakemans Tackle, Aylesbury
Fishing Republic, Stacey Bushes
Please
click here
for more details and full postal addresses.
---
Brackley Junior Winner - 17 June 2017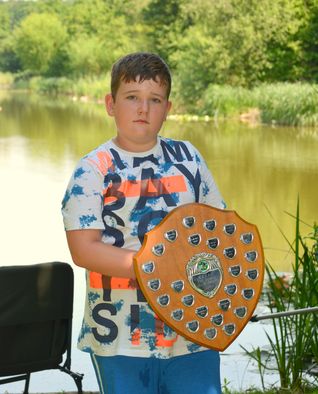 Alex Adams is pictured above holding the Brackley & District Angling Club Junior shield which he won on 17 June 2017 at St James lake. Alex weighed in with 3lb 15oz. A close second was David Gore with 3lb 8oz.
Last Updated - 10 March 2018