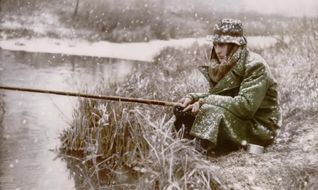 Dick Walker using a Glass Hardy Matchmaker and a 'Speedia' centre pin reel on the Great Ouse downstream of Thornton Bridge (c) Photograph by Fred J Taylor.
News
Privacy Notice for GDPR Compliance
In order to comply with the new General Data Protection Regulation (GDPR) coming into force on 25 May 2018 the club has undertaken a Data Protection Impact Assessment and has now published a Privacy Notice.
Click Here for the BDAA Privacy Notice
---
AGM - 22 March 2018
The AGM, held on Thursday 22 March 2018, was attended by fifteen club members.
The chairman, Barry Smith, and treasurer, Simon Bumstead, both gave their reports for the 2017 season which were well recieved.
We are also pleased to report that we have secured the fishing rights for the first two fields downstream at Roman Bridge from 16 June 2018 and that 300 tench have recently been stocked at Woodfields.
Minor changes to the constituion were passed unanimously. Four existing committee members were re-elected and three new members elected.
---
Reduced Membership Tariff - to 31 May 2018
Anyone wishing to join the association for the remaining part of the season - running to 31 May 2018 for our lake Woodfields and 14 March 2018 for our rivers can do so at a reduced rate:
| | |
| --- | --- |
| Adult Membership | £21 |
| Concessions | £12.50 |
| Juniors | £5 |
This reduced membership is available as follows:-
1) by Paypal. Simply send an email with your name, address and the level of membership required to
membership@bdaafishing.org.uk
and we will send you an email invoice with a link to pay. We will then post your permit and a venue map.
Please do not send payment without first obtaining an invoice via email.
2) by post to the
Membership Secretary,
10 Moreton Drive,
Buckingham. MK18 1JQ
or
3) by contacting the treasurer at
info@bdaafishing.org.uk
or calling 07767 663928 - we can then arrange a mutually convenient time and place for you to purchase your permit.
---
Junior Hall of Fame 2017
The results and pictures from the 2017 Junior matches can be found on the following page -
Click here
---
Match Programme and Results
Information about our match programme and results can be found on the following page -
Click here
---
Newsletter
The BDAA Newsletter Tight Lines 2018 is available to view in PDF Format.
Click Here for the 2018 Newsletter
---
Committee requests your views
If you have any suggestions on how we could improve the fishing experience on our waters then please let us know your views. You can email us at:-
info@bdaafishing.org.uk
Last Updated - 7 May 2018