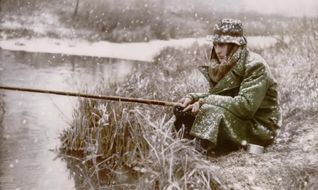 Dick Walker using a Glass Hardy Matchmaker and a 'Speedia' centre pin reel on the Great Ouse downstream of Thornton Bridge (c) Photograph by Fred J Taylor.
News
Season Opening Junior Match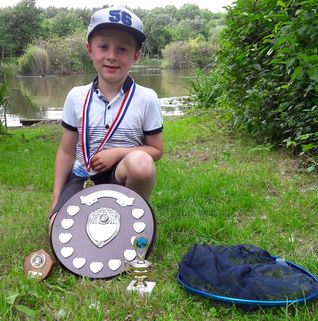 Young Riley Borton, pictured above, retained the Junior Shield trophy for a second year running at the club's season opening junior match on Saturday 10 June. Six young anglers fished the match at Woodfields and all caught some fish.
Top three weights below:
1st Riley Borton - with 3lb 8oz
2nd David Gore - with 2lb 15oz
3rd Thomas Archer - with 2lb 4oz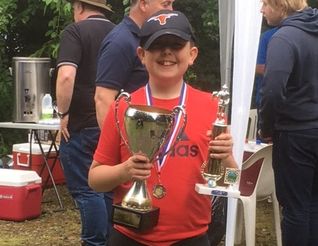 David Gore, pictured above won the Pete Callow trophy for catching the most fish in the match just beating Riley by 1 fish. David caught 52 fish in total.
Also at the event the Upper Ouse Angling Club presented three awards for the 2016 season.
David Gore was awarded the "
Most Improved Angler
" award.
Alex Adams was awarded the "
Dedication
" trophy and Thomas Archer picked up an award for "
High Acheivement
".
The match was followed by the annual BDAA BBQ which was well attended. Thank you to those that came along and especially those that helped organise the event.
---
Lost Landing Net Handle
Unfortunately one of our members left their landing net handle recently at Woodfields near peg 23. If anyone has found the handle then please contact us so we can reunite it with it's owner.
You can email us at:-
info@bdaafishing.org.uk
---
AGM - 30 March 2017
The AGM was held in the function room at Buckingham Athletic on Thursday 30 March 2017. In total 16 members including the committee, attended the meeting.
The key messages will be summerised in the Chairman's report section of the 2017 Newsletter which will be sent out with the membership renewal letters next month.
The highlight moment was a presentation of an engraved tankard by chairman Barry Smith to Bernard Lewis who has, after 50 Years service, decided to stand down from the committee. Though Bernard will continue as trustee.
Bernard will be greatly missed by the club. Bernard has been the backbone of the club for a long time and was instrumental in the acquisition and development of our lake Woodfields. This very act ensures the BDAA, founded in 1910, will have a long and lasting future given the challenges facing anglers and riparian owners.
Everone attending wished Bernard "All the Best" and I am sure we will see him at future social events.
---
Access to the river behind Hyde Lane Lakes

A key is now required to use Staleys car park to gain access to our river venues behind Hyde Lane lakes. The key will cost £15 available from Hyde Lane Lakes Syndicate group. The cost is refundable when the key is handed back. Contact Nick Mullis on 07762 822499 to arrange pick-up. His address is 14 Bourtonville, Buckingham MK18 1AZ. You will need to provide your BDAA permit number or show your permit in order to obtain a key.
10 June 2017