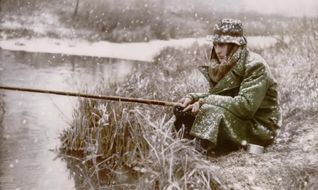 Dick Walker using a Glass Hardy Matchmaker and a 'Speedia' centre pin reel on the Great Ouse downstream of Thornton Bridge (c) Photograph by Fred J Taylor.
News
Match Results
For the 2019 match results
click here
---
Friday Cup Series Result
Ron Hillier won the Friday Cup Series and retains the trophy. Ron is pictured below being presented the trophy by Mark Fenning who was a close runner-up.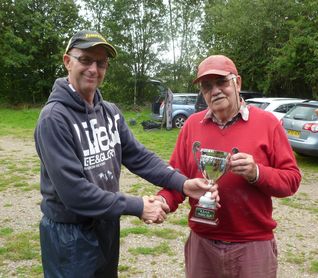 The top three standings for the series is given below:-
| | | |
| --- | --- | --- |
| Pos | Name | Weight |
| 1 | Ron Hillier | 12lb 13oz |
| 2 | Mark Fenning | 12lb 0oz |
| 3 | Bryan Bedward | 8lb 10oz |
---
OAP Trophy Winner
Ron Hillier won the OAP series and retains the trophy. Ron is pictured below being presented the OAP trophy by John Harris. Ron's total weight over the three matches was 9lb 14oz.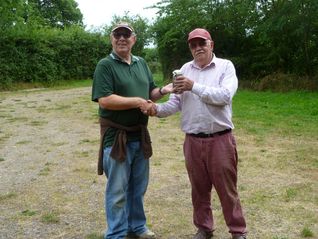 ---
Recent Catches at Woodfields - June 2019
Toni Richards, from MK, is pictured below with this fine 21lb common carp caught earlier this month.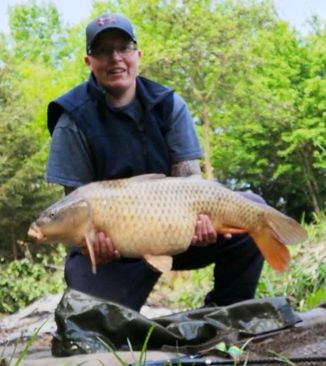 And on Sunday, 23rd June, caught this fine 12lb mirror carp (pictured below).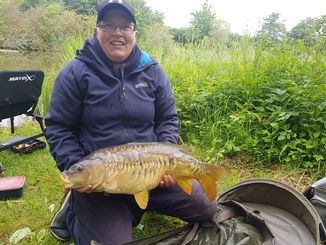 Michael Reid is pictured below with another fine double figure common carp caught earlier in June. .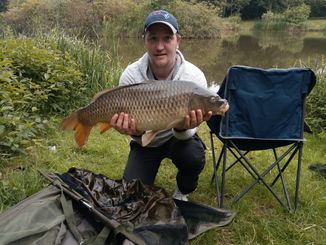 ---
Opening Season BBQ
Even the frequent heavy rain showers didn't stop the annual BBQ taking place on Saturday 15 June. It was good to see a good number of friends of the club enjoy the occassion following the BDAA Junior Open Match.
Barry Smith thanked all those that have helped the club over the last 12 months, given the difficulties the club faces, following the pollution that occurred on the river last year. A special thank you went to Nigel Bidwell, who with Walter Davies, had prepared the venue for the start of the new season.
---
Jamie Ballinger Match Result
The second match of the season, the Jamie Ballinger Memorial Trophy, held on Saturday 8 June at Woodfields, was won by John Shepp weighing in with 6lb 11oz. In total, six anglers fished the match, top three listed below:-
| | | | |
| --- | --- | --- | --- |
| Pos | Name | Weight | Peg |
| 1 | John Shepp | 6lb 11oz | 12 |
| 2 | Bryan Bedward | 3lb 11oz | 4 |
| 3 | Alan Robinson | 3lb 9oz 8dr | 10 |
---
Claydon Brook Venues Looking Good
The BDAA venues upstream and downstream of the Roman Bridge captured on video by Barry Smith. Well worth a try before the end of the season. This venue has been unaffected by the pollution incident of 2018.
Click here for Downstream of the bridge
Click here for Upstream of the bridge
---
Roach Fishing - Woodfields
Click here for a guide to Roach Fishing at Woodfields with Barry Smith
---
Upper Ouse Pollution Update
The following venues are unaffected:-
  Roman Bridge
  The Coombs
  Lenborough.
The pollution event has affected the following club venues:-
Moreton Mill to just above Twin Point
The Twins - Maids Moreton Poor Charity Field
Dick Walkers - Downstream Thornton Bridge
Leckhampstead Bridge (Straight and Horses Field).
For more information on the pollution event affecting the Ouse we have set up a dedicated page to provide information on this incident
click here
.
If you wish to support the restoring of the river then please register your interest by emailing us at :
info@bdaafishing.org.uk

Last Updated - 09 September 2019