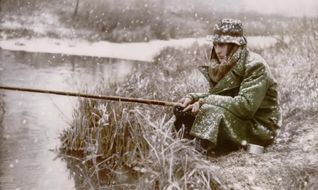 Dick Walker using a Glass Hardy Matchmaker and a 'Speedia' centre pin reel on the Great Ouse downstream of Thornton Bridge (c) Photograph by Fred J Taylor.
News
For Latest on Pollution Event Affecting the Ouse
click here


OAP Trophy
Ron Hiller retains the OAP trophy. Ron (pictured below on the left) was presented the award by Bryan Bedward who came second in the three match series.
Ron's total weight over the series was 15lb 5oz, and Bryan's was 12lb 2oz.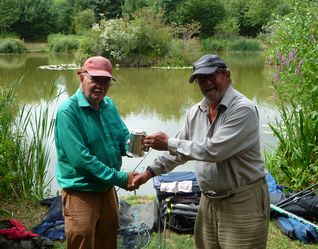 ---
Pollution Incident on Great River Ouse

The club is currently looking at ways it can support the efforts of the Environment Agency and the affected stakeholders to restore the river ecosystem to a level at least equal to it's prior state before the incident.
For the latest EA Community Briefing - dated 3 August 2018:-
Click Here
If you wish to support the restoring of the river then please register your interest by emailing us at :
info@bdaafishing.org.uk

Also, we have a dedicated page to provide information on this incident
click here

.
This incident has affected the following club venues:-
Moreton Mill to just above Twin Point
The Twins - Maids Moreton Poor Charity Field
Dick Walkers - Downstream Thornton Bridge
Leckhampstead Bridge (Straight and Horses Field).
However the following venues are unaffected:-
Roman Bridge
The Coombs
Lenborough.
---
Forthcoming Matches at Woodfields

Friday -10 August 2018
Friday Cup Series - Match 4
Draw 9am - Match 10am to 2pm.
Saturday - 11 August 2018
Benard Lewis Trophy - Open Match
Draw 1pm, Match 2pm to 4.30pm.
Saturday - 18 August 2018
The Stan Smith Memorial Series - Match 4.
Draw 3.30pm, Match 4.30pm to 8.30pm.
Float Only Match
---
Privacy Notice for GDPR Compliance
In order to comply with the new General Data Protection Regulation (GDPR) coming into force on 25 May 2018 the club has undertaken a Data Protection Impact Assessment and has now published a Privacy Notice.
Click Here for the BDAA Privacy Notice
---
AGM - 22 March 2018
The AGM, held on Thursday 22 March 2018, was attended by fifteen club members.
The chairman, Barry Smith, and treasurer, Simon Bumstead, both gave their reports for the 2017 season which were well received.
We are also pleased to report that we have secured the fishing rights for the first two fields downstream at Roman Bridge from 16 June 2018 and that 300 tench have recently been stocked at Woodfields.
Minor changes to the constitution were passed unanimously. Four existing committee members were re-elected and three new members elected.
---
Junior Hall of Fame 2017
The results and pictures from the 2017 Junior matches can be found on the following page -
Click here
---
Match Programme and Results
Information about our match programme and results can be found on the following page -
Click here
---
Coaching Events for 2018
The 2018 Coaching Events Programme including the Junior Match schedule can be found on the following page -
Click here
---
Access to the river behind Hyde Lane Lakes

A key is now required to use Staleys car park to gain access to our river venues behind Hyde Lane lakes. The key will cost £15 available from Hyde Lane Lakes Syndicate group. The cost is refundable when the key is handed back. Contact Nick Mullis on 07762 822499 to arrange pick-up. His address is 14 Bourtonville, Buckingham MK18 1AZ. You will need to provide your BDAA permit number or show your permit in order to obtain a key.
---
Committee requests your views
If you have any suggestions on how we could improve the fishing experience on our waters then please let us know your views. You can email us at:-
info@bdaafishing.org.uk
---
Web site postings
If you wish to have any news items or pictures posted to this site then email us at :
info@bdaafishing.org.uk
---
Newsletter
The BDAA Newsletter Tight Lines 2018 is available to view in PDF Format.
Click Here for the 2018 Newsletter
Last Updated - 5 August 2018